It is time to turn that dull breakfast into something more gourmet, don't you agree? A plate of scrambled eggs and hash browns seem boring, but with a little creativity and some nice ingredients, you can have your very own "room service" style breakfast at home. 
Perhaps you want to give your kids a treat different from their usual, boring morning breakfast? Or maybe you need to impress that special someone staying over tonight? Here are some great ideas to create a room service breakfast:
Yogurt Parfait
I actually got the idea from this one when I was away with work. We had an event at a conference venue in Hobart, and they had an amazing breakfast buffet! Basically it's an alternative to the old cereal bowl; it turns it into something way more special and appealing. All you need to do is to layer the cereal with some nice yogurt and add sliced fruit in a tall glass. That makes for a healthy and easy breakfast that looks both appealing and creative. If you make it in a plastic glass, container or travel mug, you can layer and create an on-the-go version. To add a bit of sweetness, drizzle maple syrup or honey on top! Yummie! This one is bound to impress even the most tired person in the morning. 
Banana Split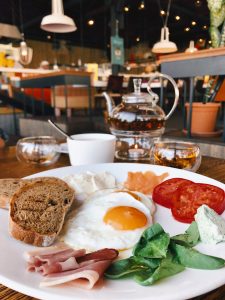 Both adults and kids love a good old banana spilt. It is a dessert inspired breakfast. But the bonus is that the kids will be thinking that they are eating sweets for breakfast (and that they are bending the rules a little). Layer a sliced banana with a scoop of yogurt and add some peanut butter, fruit or granola on top.  You can use your imagination with this one, even adding yogurt balls that look like ice-creams with some sliced almonds and fresh fruit – just spread it over the banana. And voila! 
Breakfast waffle sand
People don't often take inspiration for cooking from fast-food chains, such as our good old favourite Taco Bell. But bare with me here, TB actually has a new taco waffle meal, and it is selling like hotcakes. They are served in a breakfast buffet with waffles, eggs and sausages. You can make one yourself just by folding eggs, sausages, cheese veggies and whatever else you would like, and add it into the waffle. And then enjoy! You can construct a breakfast sandwich with two waffles in lieu of a bagel.
Smaller portions
Big plates full of food become unappealing and for breakfast, many people just want a small portion with a hot beverage. What you can do is to give smaller portions with variety. So instead of two eggs and two sausages just do one of each and add something extra like some avocado on the side.
The morning juice
Say NO to the boring café concentrated orange juice and go for something more like what you find at a juice bar. You can blend all different types of juices together to get more intense flavours; such as apple and grape or orange and pineapple. Sparkling water can be added to give your juice a dash of uplifting freshness. Add a luxury touch by including a piece of sliced fruit on top, like strawberry or orange. Even avocado works. There is no reason why you couldn't go a little wild, and add some sparkling wine to the mix for a nice drink with a touch. Putting flavours together and adding different fruits can help you create something intense with a bit of spice to it. The mimosa is a classic at formal establishments, such as luxury hotels in Hobart. 
Just by changing the way things are done you can create endless versions of the same food that everyone loves. Instead of slapping eggs and bacon on the plate, come up with something more creative with the same ingredients. Present them a different way to create the room service style breakfast, but better! 
Discover more recipes here.